il 27 e 28 Dicembre 2013 abbiamo deciso di offrire un regalo ai nostri clienti e alle persone interessate ai nostri percorsi.
COSA C'E' NEL PACCO REGALO?
1° Un Corso di Comunicazione Efficace

2° La presentazione del percorso To Be Leader
3° Una Personal Coach per i tuoi obiettivi per il 2014
PERCHE'?
Perchè le persone che ci conoscono possano ricevere strumenti per comunicare meglio con le persone care
Perchè è Natale e vogliamo lasciare un regalo speciale che duri
Per diffondere le nostre attività sullo sviluppo personale, su coaching e sulla formazione per ragazzi e adulti
Perchè il 2014 sia l'anno migliore di sempre, attraverso obiettivi che si trasformano nei risultati che tu vuoi
1° CORSO DI COMUNICAZIONE EFFICACE
Perchè quello che dico spesso viene frainteso?
Perchè quello che dico cade nel vuoto?
Perché mio figlio non fa quello che gli chiedo?
Perché non riesco a comunicare con mio figlio?
Molto spesso si riservano doni alimentari o gadget anche tecnologici a quanti interagiscono con le organizzazioni noi abbiamo deciso di
Regalare relazioni migliori a partire dagli ambiti per noi più importanti:
famiglia
lavoro
amici
Ti mostreremo come un uso consapevole del linguaggio abbia un impatto molto forte sui figli, le persone che conosci e sul rapporto che stai decidendo di costruire con loro.
Uscirai dal corso con le basi per una comunicazione vincente!
Mai più messaggi persi o fraintesi!
Comunicare con efficacia significa riuscire a trasmettere in modo autentico e sincero il nostro messaggio evitando le insidie dei fraintendimenti o delle parole cadute nel vuoto.
I RISULTATI CAMBIANO SE CAMBI IL TUO MODO DI COMUNICARE
DI COSA SI TRATTA?
Un vero e proprio laboratorio esperienziale per scoprire come migliorare la comunicazione, entrare in sintonia con  figli e le persone che ci circondano e costruire con loro una relazione serena.
2°  PRESENTAZIONE DEL PERCORSO "TO BE LEADER"
Con l'occasione presenteremo
l'innovativo percorso di formazione per ragazzi
"To Be Leader"
"Quando abbiamo pensato di fare formazione il nostro pensiero è stato per i giovani e i ragazzi. Eravamo a Palm Spring ad un corso di Anthony Robbins, uno dei nostri mentori. La maggior parte delle persone scopre strumenti di miglioramento solo da adulti , noi vogliamo colmare questo vuoto.
Prevediamo nel "To Be Leader", attività, eventi e strumenti non limitati ad un singolo corso  ma ad un percorso che accompagni i ragazzi dai 7 ai 17 anni."
3° UNA PERSONAL COACH
In più un regalo speciale
per l' ANNO NUOVO
Ai convenuti oltre ai contenuti della serata sarà riservato un regalo speciale in vista della fine dell'anno:
Una personal coach per definire insieme ad uno dei nostri coach specializzati gli obiettivi per il 2014 e trasformarli in risultati!!!
DOVE & QUANDO
il 27 Dicembre alle 21
o
il 28 Dicembrealle 10.30
PRESSO
Villarotta di Luzzara (RE)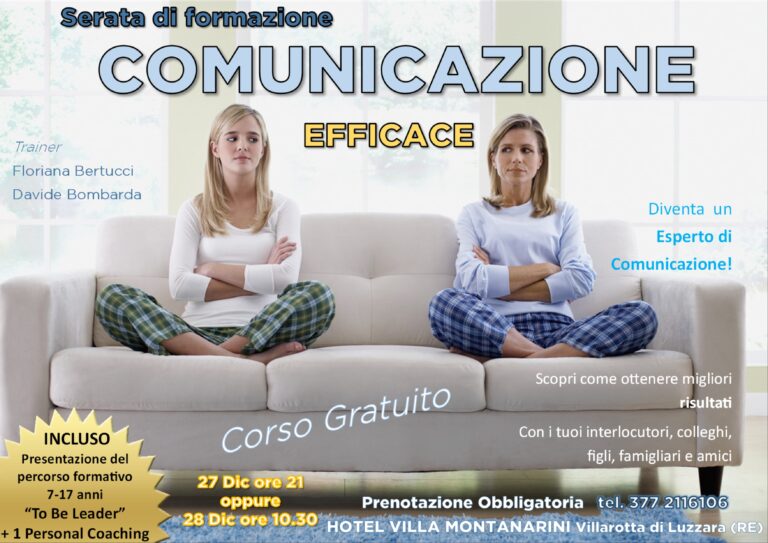 Ti Aspettiamo
PRENOTA ORA IL TUO POSTO
Davide Bombarda 377 2116106
davide@tobeformazione.org
 AL REGALO PENSIAMO NOI!