Panoramica
Cashflow 101 è il gioco da tavolo creato da Robert Kiyosaki educatore finanziario ed autore della serie di libri "RIch Dad"
Cashflow è il gioco su questo argomento di maggior successo che ha giocatori in tutto il mondo.
Sfruttando meccaniche tipiche di un gioco di ruolo il giocatore veste i panni di un personaggio pregenerato.
il personaggio ha caratteristiche dettate dalla sua professione come stipendio e spese. Durante il gioco ci si trova a confrontarsi con glia attori principali della attuale vita finanziaria: banche,borsa,immobiliare,spese impreviste.
Scopo del gioco è arrivare ad  le proprie spese mensili pagate da introiti non dipendenti dal nostro tempo come: investimenti finanziari e rendite.
Il gioco ha come scopo quello di aprire la mente ai meccanismi che ogni giorno vediamo intorno a noi senza comprenderli a fondo e sopratutto senza conoscere il ruolo che hanno nella nostra vita finanziaria.
To Be Leader Cashflow Club
Robert Kiyosaky ha riconosciuto il To Be Leader Cashflow Club come uno dei 2 Cashflow Club riconosciuti in Italia.
Il nostro club però è differente perché è rivolto ad un pubblico di ragazzi e ai loro genitori.
Il To Be Leader Cashflow Club è il primo Cashflow Club in al mondo dedicato ai ragazzi.
Robert Kiyosaky ci ha addirittura fatto dono di una copia del gioco (in inglese!) quando ha cambiato la grafica!!
E' anche una tappa del  percorso To Be Leader e organizziamo regolarmente incontri di gioco del gioco Cashflow 101.
E'  un incontro aperto a tutti!
Abbiamo aperto a tutti i ragazzi che vogliono partecipare così potranno:
imparare le basi dell'intelligenza finanziaria.
passare un pomeriggio divertente
fare nuove amicizie
Nella vita quotidiana i ragazzi si confronteranno con tante sfide legate al denaro perciò avere da subito un confronto è importante e più siamo più ci divertiamo!
Ogni incontro è completato da contenuti teorici sempre differenti per contribuire sia al successo della giornata sia per incrementare le conoscenze dell'intelligenza finanziaria.
Il pomeriggio passato insieme permette ai ragazzi di fare nuove amicizie accrescendo la loro conoscenza dei meccanismi della vita finanziaria.
Se pensi che avere un buon rapporto con il denaro è importante per tuo figlio 
prenota il suo posto al prossimo incontro  a Roma
"Non è il denaro che ti rende ricco, ma piuttosto ciò che sai sul denaro." R.Kiyosaki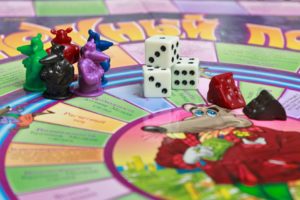 Programma della Giornata:
Registrazione partecipanti
Organizzazione dei tavoli genitori e ragazzi
Spiegazione regole del Cashflow Inizio gioco
Fine partita (dopo circa 3 ore
Condivisione ed EDUCAZIONE FINANZIARIA
Premiazione dei vincitori
Il prossimo incontro si terrà il 25 e 26 Maggio 2019 a ROMA
L'incontro è aperto agli iscritti 

 alla To Be Leader Academy  e i loro invitati

Ecco gli importanti insegnamenti  che porterai a casa da questa giornata:
Imparare i principi base della liberta' finanziaria estratti dai libri di Kiyosaki
Imparare in pochissime ore

come giocare a CashFlow 101

Conoscere tante persone 

che come te sono unite dalla passione per la libertà' finanziaria

Pensiero Finanziario a Lungo Termine

. Nella vita molte piccole decisioni ci danno una gratificazione istantanea che ci allontana da ciò che vogliamo davvero. In questo gioco per la prima volta ti renderai conto di come queste piccole gratificazioni istantanee possano allontanarti da ciò che vuoi davvero se fatte in modo impulsivo e senza visione a lungo termine. Perché mentre nella vita i risultati si vedono dopo tempo. Qui lo vedrai immediatamente!
Il Fattore Fortuna. Nella vita come in questo gioco la fortuna ha il suo ruolo. Ma imparerai che indipendentemente dal livello di partenza quando giochi bene le tue carte puoi ottenere quello che vuoi. E sopratutto non è importante da dove parti o cosa ti succede è importante dove vuoi arrivare. la determinazione supera la sfortuna!
Saper prendere rischi. Giocando imparerai come molte volte la paura del rischio è un freno irrazionale. Imparerai a giocare con il rischio che per te è ok  e prendendo buone decisioni sarai ancora piu' sicuro. Saper gestire il rischio è meglio che evitarlo perché comunque in un modo o in un altro esso entrerà n gioco e ciò che non gestisci ti gestisce.
E se questo non bastasse…ti divertirai tantissimo a Cashflow 101 in un gruppo di amici!
[contact-form-7 404 "Non trovato"]