per essere… il Capitano della tua vita e del tuo futuro
A chi è rivolto la To Be Leader Academy?
To Be Leader Academy  è una accademia rivolta a ragazzi di età compresa tra  7 e 21 anni che vogliono sprigionare il loro potenziale, attraverso i loro talenti e strumenti di sviluppo personale.
Il sentiero si snoda attraverso moduli strutturati per raggiungere i singoli  obiettivi in modo coinvolgente e divertente confrontandosi in un gruppo di coetanei.
Le attività in gruppo verranno integrate con incontri  sia personali  che  con i genitori su obiettivi specifici del singolo ragazzo in cammino .
 Quali sono gli obiettivi del percorso To Be Leader Academy?
To Be Leader Academy è pensata in modo tale da accompagnare, come in un viaggio, la crescita dei  ragazzi.
Nel percorso l'obiettivo è di trasmettere strumenti e strategie .
Lungo la strada il ragazzo potrà imparare e mettere subito in pratica:
Abilità del Leader
Gestione del Tempo
Comunicare con Successo
Pensiero Produttivo
Consapevolezza delle proprie potenzialità
Linguaggio del Corpo/ Capire gli altri
Parlare in Pubblico con Successo
Tecniche di Studio Efficace
 Sviluppo dell'Intelligenza Finanziaria
Energia e Vitalità
Accademia significa lavorare per raggiungere l'eccellenza nei punti di forza e crescere nelle aree di miglioramento.
Come si struttura la To Be Leader Academy?
La To Be Leader Academy è strutturata  in moduli.
Ogni modulo ha metodi ed attività specifiche al fine di massimizzare il raggiungimento degli obiettivi.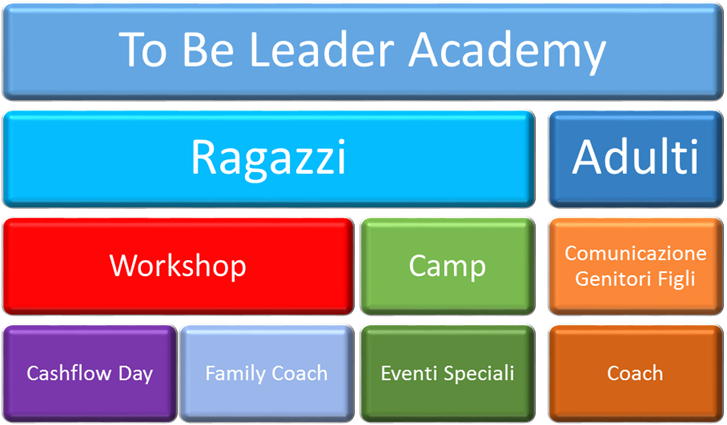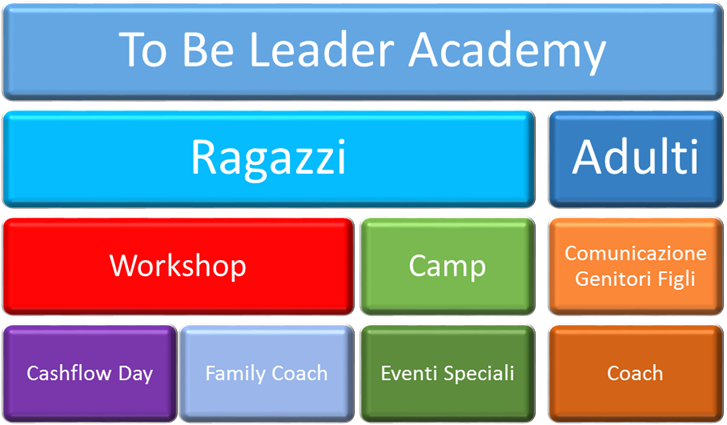 I moduli del percorso per il ragazzo sono:
I  moduli sono indipendenti e non propedeutici
cioè il ragazzo

può iniziare quando vuole!!!
E per gli adulti della famiglia:
Corso di comunicazione Genitori Figli per riuscire a trasferire a tuo figlio regole,suggerimenti ed avere sempre un rapporto speciale!
Coaching  To Be per il ragazzo e la sua famiglia per essere seguiti e assistiti durante tutto l'anno con costanza tra un evento e l'altro